Guide to Beach Clubs In Mallorca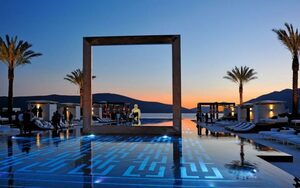 Apart from offering the very best property for sale in Mallorca we also like to keep our visitors up to date with guides on the island of Mallorca and what it has to offer. We hope you find this guide on the best beach clubs in Mallorca to be helpful for you!
The beach clubs in Mallorca are famous for their luxurious surroundings and second to none service. A day at one of these resorts is a day full of pampering and fun.
There are a whole range of fantastic beach clubs on the island so we've put together a list of the best for you below, have fun!
The ultimate in Mallorca beach club luxury
Nikki Beach, Calvia Beach Resort
It has been called 'the sexiest place on Earth' and it markets itself as being the epitome of everything that is chic and glamorous about a day and night at the beach. In short, Nikki Beach is a way of life – and a good one at that.
Located on one of Mallorca's beautiful white beaches, Nikki Beach Mallorca – which opened in 2012 – includes a beach club & pool, indoor & outdoor dining options a cocktail bar and the Nikki Beach Lifestyle boutique.
The beach club also offers an area for beachside beauty treatments and a zodiac yacht pick-up service is available to those arriving by yacht.
The extensive menu includes delectable dishes featuring signature tastes and spices representative of all the countries Nikki Beach is located, including delicious salads, creative sushi rolls, original seafood entrees and slow-roasted free-range rotisserie chicken.
The choice of location has raised a few eyebrows but Nikki Beach is now a beacon shining in the Magaluf coastline, like a lighthouse drawing yachts to the safety of the harbour. The décor, both indoors and outdoors, is a perfect blend of comfort and elegance. The restaurant holds 230, while there are 50 sunbeds, 36 double beds and 10 so-called opium beds. The reputation for excellent food built up over 14 years continues, too, with head chef David Farber brought in from St Barths to cook his own Ravioli à la Farber and Nikki Beach favourites such as Akaushi beef chateaubriand, Alaskan king crab legs and those signature sushi boats. Such self-confidence is also reflected in the grandly titled Nikki Beach World Famous Mojito.
Open from 11am to 1am, June to September. Children allowed in restaurant till 4pm. Parking spaces for 100. Complimentary yacht pick-up service.
Verdict: Luxurious and exclusive yet remarkably understated. Excellent food and décor to go with views of a small island and yachts moored in the sea. This is a socialite's playground, appealing to the sexy, sassy party crowd, where people come to have fun – and for fine dining. Watch out for their fabulous themed parties with a full social calendar throughout the summer months, this is the ultimate place to see AND be seen.
Address: Calviá Beach Resort, Magaluf, Mallorca
Tel: +34 697 150 392
Hours of operation: Beach: from 11am | Restaurant: 12pm until 7pm |
Bar: 12pm until 8pm
*Open for dinner Wednesday to Saturday, starting June 10 till end of August
Mood Beach & Restaurant, Portals Nous
A well established and very prestigious beach club a definite one for the "IT CROWD"which unlike the other clubs on the island, remains open 12 months a year, with many special events and the most amazing Sunday lunch with a view.
Spend the day relaxing on one of the sumptuous Bali beds around the beautifully glistening pool whilst overlooking the azure waters of the Mediterranean Sea.  And perhaps have a spot of lunch prepared by first class chefs whilst chilling out to beautiful music.
By night, it's moonlight on the water and the soft sound of the sea on the beach below when you dine by candlelight. The elegant/casual candlelit restaurant gives you a choice of delicious snacks or divine gourmet dishes and you'll find the best of European, Mediterranean and Basque dishes often kissed with the tastes of Asia.
Sunday lunch– from €24 plus unlimited wine throughout the meal just €7!
Calviá area taxi fares refunded in drinks from the Lounge Bar every Thursday, Friday and Saturday evening. The Lounge Bar is the place to meet and greet friends and the ample parking makes it just perfect, whether you're eating in the Crystal Deck restaurant or moving on for an evening in the city. In the Lounge Bar there's usually a DJ or live music. The lighting is low, the Mood is sensuous and the dance floor beckons. You can make every night party night at Mood. At last you don't have to be a teenager to have a place where you can enjoy dancing the night away!
Address: Ctra Palma-Andratx km 11, Costa D'en Blanes, Calvia 07181,
Reservations:  971 676 456 | e: info@moodbeach.com
Events:  971 676 456 | e: info@moodbeach.com
Nassau Beach Club, Palma
Situated on the outskirts of Palma, towards Portixol, directly on the sea front with a fabulous view overlooking the cathedral which is only 750 metres away.
This is a very elegant and upmarket beach club with clientele to match, which is open both during the day time and also on an evening attracting anyone who is anyone and also has played host to some world class celebrities including Tina Turner.
With exquisite Mediterranean delicacies, a fabulous Sushi menu and wonderful music – the water, the soothing rays of the sun, the fine sand under your feet, with a fabulous cocktail menu, sit back relax and watch the magnificent sunset with a view of the nearby cathedral. You can visit us with your boat or yacht as there is a pier right next to the Beach Club & Restaurant.
Nassau Beach club is open summer and winter and as such you can continue to enjoy your time here whatever the season.
Open Daily: From 9:00-01:00h
Reservations by online form or mobile App : http://nassaubeach-palma.com/ihre-reservierung/?lang=en
Telephone: 664 449 053
Purobeach and Spa, Palma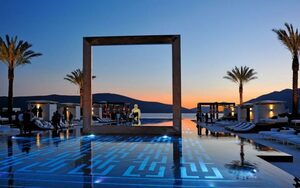 Purobeach Palma is located in Palma de Mallorca in a spectacular location. It is on a mini-peninsula in the middle of Palma Bay with its 180º ocean view.
Located in an exclusive corner of the Mallorcan coast, it offered a unique combination of services by the sea, a unique lifestyle concept by the sea with ethnic design, a pool made out of black volcanic stone, Balinese hammocks, spa services and a restaurant with its trademark 3M cuisine, selective music, a shop with exclusive Puro products. In short, everything that could be wished for, even by the most hard-to-please.
Feel the Mediterranean breeze while receiving a mas sage treatment at the PUROBEACH NOMAD LODGE. Located on the top of the fantastic terrace with 180º views of the ocean the SPA offers a wonderful range of treatments, so sitback, relax and enjoy being pampered.
Treatment bookings: info.palma@purobeach.com
There is also a fabulous restaurant with a menu ranging from fresh salads & grilled lobsters to the fabulous Puro Burger which can be enjoyed either at the pool/ terrace or inside.
From the bar Purobeach Palma offers a variety of classic Cocktails the best international Spirits, Liquors, Wines and Champagne and certainly, our Puro Wine Collection. There are special events held with regular days/evenings with top DJ's playing the latest sounds so check out the website for details of what's on.
Tel: +34 971 744 744
Table and Sunbeds Reservation: info.palma@purobeach.com
Zhero Boathouse, Calvia Beach Resort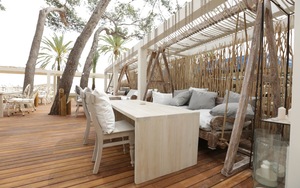 Brand new for 2015 and situated on the beach front at Magaluf a hundred metres from Nikki Beach Club, this has a chic and simply fabulous setting, overlooking the magnificent beachfront and with sumptuous furnishings and a real chill out ambience, with a little splash pool in order for you to keep cool on those long hot summer days.
This has a very upmarket and elegant appearance and offers a fabulous range of Mediterranean, International and Japanese cuisine and a fabulous cocktail menu.  A fashionable place to hang out with friends over a cocktail with great music and a "chilled" ambience, a real contrast to the  nearby lively resort centre of Magaluf, come here and seek a little sanctuary with a great view, great food and nice people.
Zhero Beach Club – Cala Major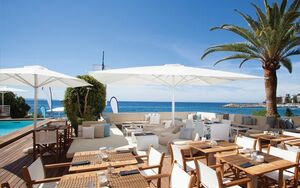 Nestled amongst the rocky bay of Cala Major and facing directly out across the bay with great views, this small but very elegant beach club offers a great chilled out day with elegant and sophisticated surroundings, with a great pool for those hot summer days when you simply must take a dip to cool down and direct access to the sea.
With sumptuous sun loungers, a range of shisha flavours and a relaxed style and a gourmet menu, offering the most amazing selection of  Sushi and a range of other international dishes, how can one resist the temptation to visit and enjoy some great ambience, cool music and of course that fabulous cocktail menu.
Daily specials are offered with an array of mouth-watering dishes and special events and guest DJ's.  All this makes for a fashionable elegant retreat.
Address: Av. Joan Miro ,305; Palma De Mallorca, Spain
Reservations: 971 40 43 10
Virtual Club – Illetas
Set in the very fashionable area of Illetas, which attracts high society and the elite visitor, this very swanky beach club is a chic venue located on a solid platform at one end of the sands.
If arriving by car there is valet parking and if you arrive by boat there is the possibility to anchor in front of the beach club.  One will soon discover that this is a very sophisticated and high class beach club offering fabulous Bali beds and sun loungers with both sunny and shady spots with a great selection of the latest laid back tunes with live soul and jazz every Friday.
Why not spoil yourself in the VIP zone where you will be given a privileged position and served with Moet & Chandon and fresh fruit and of course direct access to the sea when one gets a little too warm.
There's a gastronomic delight waiting for you from this kitchen with a varied range of cuisine and should one prefer to visit in the evening there's a nightclub set in a cave which is formed from the rock face of this very exclusive club with special guest DJ's in a stunning location looking out over the bay of Palma….who could ask for more?
Address: Paseo de Illetas 60
Reservations: 971 703 235 OR info@virtualclub.es
Balneario de Illetas / Las Terrazas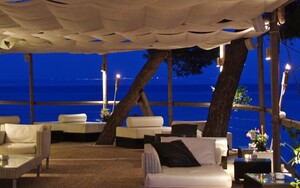 Beach bars and restaurants have been a fixture on Illetas beach since 1958, when the first venue opened there. Famous black and white postcards showed the beach and terraces packed with orderly sunbathers.
The current incarnation, the Balneario de Illetas, dates from 2003 and as beach clubs go, it is on the mega side, with a complex that covers more than 9,000 square metres.
There is seating for 300 and has 200 sun-loungers – and reservation is advised. Expect to pay about €25 for lunch and between €30-€40 for dinner.
Head chef Miguel Garcia's paella is a big hit at lunchtime and his monkfish and tiger prawn skewers are highly recommended. The best cocktail in the house is the rather rare Chelsea Iced Tea, a tasty concoction made from vodka, gin, rum, passion fruit liqueur, lemon and lime juices balanced, topped off with Champagne.
The Balneario, also known Las Terrazas beach club, which is the lounge section also has a boutique and Bodhana Wellness Centre offering a mas sage parlour at beach level, and at night, this is prettily illuminated with torches and candles.
Address: Passeig Illetes, 52, 07181 Calvià
The Chi Lounge – Palma nova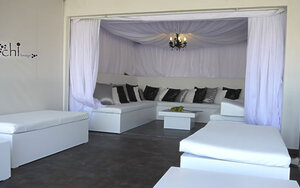 Set right on Son Mattias beach front in Palma, directly overlooking the sea, this very trendy little beach club is the great setting for an after noon of partying with great music.
The morning set is chilled and relaxed, is the perfect way to start your day looking across the bay.  The afternoon set, slightly more upbeat, relaxing yet raising the energy levels!!!
The evening set offers the finest jazz, rare groove and dance music currently being listened to… let the party begin!! Lounge on the beach taking in the latest tunes or relax in the cool interior and check out the cocktail list!
They have the finest authentic choice of Chinese and Thai based dishes all cooked to order by the Shanghai chef. A delicious range of salads, rice and noodle dishes will wet anyone's appetite. The sushi selection is amongst the best on the island, again all made fresh to order. If you like Asian food, you really should visit, you won't be disappointed.
This fashionable little beach club attracts a trendy crowd and is open all day from 12 onwards. Chi Lounge is based alongside one of the safest anchorages in Mallorca, so if you are arriving by boat, this holds no problem. Available for special events and parties.
Address: Carrer De Martin Ros Garcia No 6  Palmanova
Telephone: 0034 659 289 398
Email: info@chiloungemallorca.com
Mhares Sea Club – L'Oronella Puig de Ros Llucmajor
A unique club for adults only built on the rocky coastline in the South East of Mallorca looking directly over the crystal clear Mediterranean just 15 minutes from Palma.
The Sea Club is located in an unparalleled natural setting where visitors can bathe in the Mediterranean's crystal-clear waters or in the fabulous swimming pool.
Not only is the Beach Club open during the day, but when there is finally a little respite from the sun, at Mhares they also offer guests the opportunity to watch one of Mallorca's unforgettable breath-taking sunsets to background music by some of the island's top DJs. If what you seek is a unique experience in a seafront setting, Mhares Sea Club offers the perfect plan for a summer day.
The restaurant offers a selection of healthy flavoursome dishes, made with top-quality ingredients. Choose a meal from the weekly set menu or reserve a package consisting of a Sun lounger + Set Menu, and enjoy a brilliant day out at the Beach Club.
Telephone:  971 180 108  /  626 343 110
Email: reservas@mharesseaclub.com
Pabisa Beach Club Arenal
Experience beautiful Majorcan sunsets at the Pabisa Beach Club… you have never seen anything like it. The Pabisa Beach Club is situated in Playa de Palma, right on the beach where you can relax in the lounge and enjoy the spectacular sea views and stunning sunsets.
Try the exclusive Lounge menu or enjoy the greatest sporting events on big screens, and in the evening you can watch the best in live music shows.
They also offer fun minigolf with 54 holes distributed over three different courses surrounded by lush vegetation and enjoying a privileged position overlooking the beach. For all ages, beginners to experts.
Private parties and events can be arranged.
Address: Ctra Arenal, 56 · Balneario 4-5 · 07600 Palma de Mallorca
Telephone: 971 74 33 34
Opening hours: 09:00 to 01:30: From 27/04/2015 to 25/10/2015
Gran Folies – Cala Llamp, Puerto Andratx
Situated in the very upmarket area of Cala Llamp (Port d'Andratx), nestled in to the coastline offering a laid back ambience in beautiful surroundings overlooking the rugged coastline in the South western tip of the island.
Both bar and restaurant sit among rocks which have formed their shape with the movements and erosion of the sea. Few other places on the island enjoy such a private atmosphere, with spectacular views over the bay and only visible in full from the sea.
From here you can enjoy a dip in the sea, which is right at your feet, or take a swim in the pool if you prefer; a fabulous place to wind away the hours in the beautiful Mediterranean sunshine with fabulous scenery.
There is a fabulous restaurant with an exquisite menu which is open both day and night and a large selection of tempting cocktails.
Bookings: by contact from on website: Beach Club Gran Folies