Holiday Renting Your Villa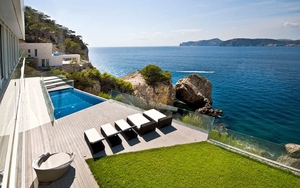 Start Earning up to 5% API on your Villa Today!
The trend for more and more people looking to holiday in luxury Villas is rapidly increasing. This is great news for Villa owners as it offers extremely lucrative results.
Here at Unique Mallorca we will give you all the help and advice that you need about holiday rental of your villa. This guide will give you an over view of the considerations in preparation for this.
We'll help you every step of the way and if you have any questions we'll be ready with the answers.
Thinking of offering your villa as a holiday rental in Mallorca? We can help.
Important information and advice for landlords for short term & holiday rentals:
New legislation means that holiday villa rental is now fully legal

As from 2015 you are legally allowed to rent your villa for short term touristic purposes assuming that your villa meets a certain criteria. This qualification is set by the government and a license must be obtained. It's very important that this is put in place properly as failure to do so can result in hefty fines and as part of our holiday rentals service, we will arrange all of this for you.

No Initial Outlay for License

For all property owners who sign an exclusive contract to rent their villa with Unique Mallorca, we can guarantee no upfront charge for your license application.

No Direct Fees to you

No direct charge will be made to you for holiday rental services of your villa. All commissions, fees for cleaning and maintenance will simply be deducted from the guests rent and the net payment will be paid directly into your bank account.

Insurance Requirements

In the unlikely event that someone has an accident whilst on holiday in your villa, it is important that there is an existing insurance policy in place and we will advise you of how this can be simply added to your normal household insurance policy.

Holidaymaker Requirements

Holiday makers will expect the Villa to be of a good standard, so it is important that this your villa is kept fresh and clean at all times and also that it is fully equipped with linens, crockery and other household items such as kettle, toaster, iron etc. We will supply full details of what is required upon your request.

Cleaning and Changeovers

Your guests will expect that on arrival the Villa is clean, with fresh towels, pool cleaned and it is warm and welcoming.
Our Property Management Team will ensure that the Villa is perfect for use for your guests upon arrival.

Repairs and Ongoing Maintenance

At times, there may be a need to carry out small repairs which can be anything from replacing lightbulbs to fixing a washing machine, as your guests will expect everything to be properly functioning at all times. The guests will also expect that the gardens are well manicured and that the pool is regularly serviced and maintained. Our Property care team is ready to assist wherever and whenever we are required.

Inventory

We recommend an inventory of any furniture and all household items is undertaken. This will be checked at the end of each holiday rental and the cost of any items missing or broken can be deducted from the security deposit at the end of each Tenancy. Our Unique Mallorca Property Management team will help you with this.

Payment Upfront

Guests will always pay upfront for their stay and at this point the security deposit is always taken, ensuring that there is no possibility of a guest leaving without payment.

Utility Bills

These will remain in your name as the villa owner, an allowance for this should be taken into account when setting the weekly rental to be charged to your guests.

Guest Information

The guests must have information such as emergency services contact details, instructions on how you use all of the equipment, as well as things to do and a 24 hour emergency contact number. Unique Mallorca will produce all of this for you.
Need help or have a question about our service? Contact us today and we'll get right on it. We look forward to speaking with you.
Philippa & Michael