Happy Halloween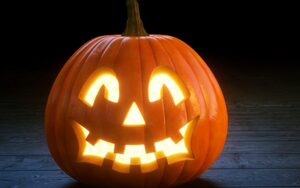 Many of us love donning a spooky outfit and having a real ball at Halloween and here on the island its one of the most popular evenings of the year with ghostly, scary and downright outrageous outfits everywhere.
For many who have spent the whole season working in the tourism or entertainment industry, it's traditionally the final party and the opportunity to let their hair down and wave goodbye to the summer season.
There are many different theories about how Halloween evolved and it's widely believed that this was originally a pagan ceremony. With All Saints Day being on 1st November where people mark the passing of loved ones it was believed that the evening before would be when a number of souls passed over and because not all spirits are friendly, people believed that if they dressed up as a ghost or ghoul this would shy the evil spirits away.
Because ghosts were believed to roam the streets at night the Celtic tradition was to leave out, gifts and treats to pacify any passing evil spirit and ensure next year's crops would be plentiful. This custom evolved into trick-or-treating.
We love the tradition which seems to get bigger and bigger every year with the costumes getting more creative and this year there will be plenty of events all across the island so check out what's on and where and get ready for a spooky encounter…..
By Mary Willoughby
October 2016