Mallorca The Kings Choice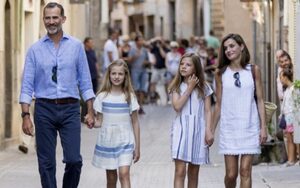 The island of Mallorca gave a warm hearted welcome to King Felipe and Queen Letizia and the 2 little princesses who arrived on our stunning shores this month for their annual holiday at their summer residence, the magnificent Marivent Palace.
Of course as always during any royal visit the streets are buzzing with extra security and additional police are deployed to ensure they are able to enjoy their time off safely.
The press were treated to a photo call at the Palace and dozens of photographers flocked there to capture their happy holiday mood.
It has been a very long standing tradition for the Spanish Royal family to spend their summer vacation in Mallorca and who can blame them with idyllic beaches, calm turquoise waters and a truly relaxing ambience who want to be anywhere else?
One event very close to the Kings heart, which he competes in every year is the Copa Del Rey (the king's cup) yachting competition, which has been a favourite with the King and many Monarchs preceding him.
The royal family do like to spend some time out and about and exploring some of the local sights such as La Granja -a 17th century mansion situated in Esporles and they have also been spotted at their favourite restaurant Flanigans in Puerto Portals, where they would be treated to very fine dining with delightful views over the Marina.
We wish them well on their holiday and hope when they leave they are thoroughly refreshed and revitalized.
Mary Willoughby
11 august 2016