Sea Turtles In The Mediterranean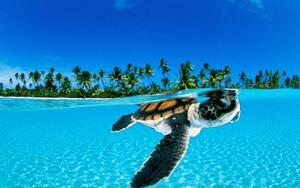 Two young Sea Turtles named Ella and Ossa were rescued from different beaches around the island and were nursed back to health thanks to the amazing work of the Consortium for the Recovery of Fauna of the Balearic Islands, which is sponsored by the Department of Environment.
We can report that both Ella and Ossa made a remarkable recovery and this month were given back their freedom to happily and healthily roam the Mediterranean Seas.
The hi tech monitoring system will be able to map their progress and check that they continue to thrive in their natural environment
Local school children from Andratx were able to witness the event and give them a wonderful send off on their journey to their destiny
We hope Ella and Ossa go on to have a long and happy life and produce many babies to increase the islands turtle population.
By : Mary Willoughby
August 2016