Walking in the Moonlight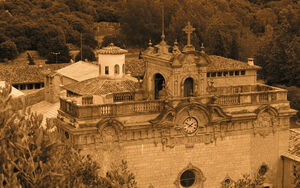 For the last 42 years there has been an annual walk, which takes place throughout the night, which has grown massively in popularity since its beginnings and this starts from the Plaça Güell in Palma to mountain hamlet of Lluc and covers a Total of 49 kilometers.
This year the walk will take place on 13 August at 11pm.
The journey itself started off as a pilgrimage and now has become a firm tradition and with some 11000 partaking in this last year, you can see that this is now considered somewhat of a challenge course.
The walk takes place every August and starts at 11pm due to the very intense heat in the daylight hours and passes through some fabulous countryside. This is not for the faint hearted though as the last 14 km which goes from Camí Vell from Selva to Lluc monastery is particularly grueling with many steep ascents and it is normally throughout this part where some choose not to go any further.
Being a keen walker myself, I know that for a journey like this, a training regime in preparation is an absolute must.
The benefits far outweigh any negatives as you pass through some stunning countryside and the end result of arrival at the Monastery in Lluc is a spiritual and serene experience.
The monastery, which is to this day run by monks was the first Sanctuary on the island that was dedicated to the Virgin Mary, dating back to the 13th Century and they still offer rooms (very comfortable with traditional stone exposed walls) to rent for travelers wanting to escape the usual party resorts an is a great day out and gives visitors the opportunity to see a different side of life.
The walk is open to anyone who wishes to take part and Registration can now be made via www.desguellallucapeu.es as well as in the Plaça Güell and at the Decathlon stores in Marratxi and Son Moix. Times are: 8am to 1pm and 5pm to 8pm weekdays.
By Mary Willoughby