Mallorca Area Guides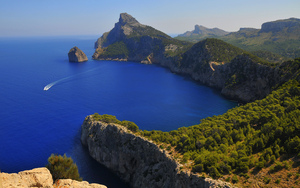 Welcome to Mallorca, an island of exquisite beauty and dramatic diversity with crystal clear turquoise waters fringed by pristine soft white sandy beaches, lush tropical green landscapes and magnificent mountains creating spectacular rugged coastlines, sumptuous gastronomic delights, idyllic picture postcard villages and powerful history.
If all of the above is not enough to tempt you, then perhaps consider the sub-tropical climate with over 300 days of sunshine a year, there is little wonder that thousands come to Mallorca, fall in love and never want to leave and with over 12 million visitors a year, this speaks for itself.
Welcome to Mallorca – a beautiful island
About the island
At 75 kilometres from North to South and 100 kilometres from East to West Mallorca and 550 kilometres of coast, Mallorca is the largest of the Balearic Islands.
Its current population is over 500,000 with most living in and around the historic, characterful capital city of Palma de Mallorca.
This of course increases dramatically during the summer months, when many seasonal workers and tourists descend upon the island.
Which is best? North, South, East or West?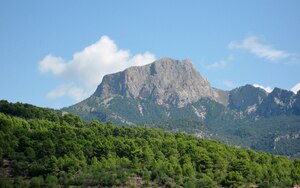 One could not say which the best part is, as each region in Mallorca has its own particular appeal the north for its colourful past, historical roots and artistic feel.  The east for its charming idyllic coves and pretty little soft sandy beaches and underground caves.
The West IS best if you like mountains, rugged coastlines and breath-taking scenes of awe inspiring beauty. Central Mallorca is for those culture vultures wanting to discover the real Mallorca, with its almond groves, windmills and old market towns.
South Mallorca, has some of the islands most famous beaches such as Es Trenc, often referred to as the Caribbean of Mallorca and the Southwest Mallorca, a stone's throw from the capital has everything from swanky upmarket resorts with their chic and trendy beach clubs attracting the Social Elite to the traditional and original package tourist resorts where you can dance the night away.
What floats your boat?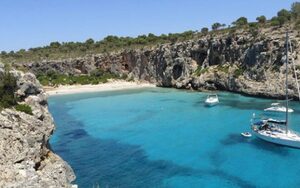 For the thrill seekers and the outdoors type there's a whole host of activities in Mallorca.  Always a hit with the Yachtie sector there are plenty of Sailing opportunities, walkers love to trek the mountains and if golf  is your bag you can tee off in style!
Mallorca really does have it all – glorious beaches and majestic mountains, a wealth of culture, a buzzing and cosmopolitan city, theme parks for all the family and tranquil serene little hideaways and is a wonderful place to either holiday OR to come to live in Mallorca on a permanent basis.
Live in Mallorca? Or Flying Visit?
With huge and varied selection of homes and many excellent investment properties, you can find everything from opulent sea view villas, to chic city apartments.
There really is something for everyone and here at Unique Mallorca we will help you find your perfect piece of paradise!
Mallorca is only a couple of hours flight time to most of Europe and of this and more makes it a firm favourite for European Visitors and expatriates alike and who could blame them.
Need help or have a question about our service? Contact us today and we'll get right on it. We look forward to speaking with you.
Philippa & Michael