All Saints Day Fiesta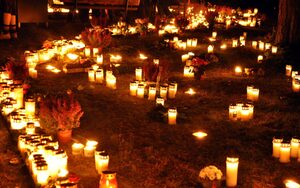 1st November eachyear is a very important Fiesta to the people of Spain called All Saints Day (Todos Los Santos) and therefore one will  find most shops and businesses will be close for the day so that families can get together.
The reason this Fiesta is so important is because traditionally this is the day that people will remember loved ones who have passed away.  The practise is for people to return to their home Town or Village to pay their respects.
Families take this commemoration very seriously indeed and normally go all together to adorn the gravesides with elaborate flower arrangements, candles and photographs.
You will find that the streets around the cemeteries on the island will be really busy with those paying their respects and of course this is for many people a very emotional day and afterwards it is traditional for families to have lunch together in one of the local restaurants. This is often the last day of the season for some restaurants and marks the end of the tourist year until next year begins.
With all the neon lights and sun sea and sand it is sometimes easy for us to forget the strong Catholic religious beliefs still adhered to by our local people in Mallorca and this is one of the most significant days in the cultural calendar.
By: Mary Willoughby
October 2016