Selling Your Property In Mallorca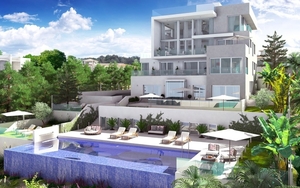 Selling your home in Mallorca does not need to be a long and drawn out process, we can value your house, apartment or flat, bring it to market and present it in our own special and unique way.
We'll take pleasure in displaying your property in the most positive of lights and showcasing and highlighting all the most fantastic attributes that your home offers.
The whole process can be accelerated and improved with just a little help from you.
As the owner of a property in the beautiful island of Mallorca, you are in the most advantageous position to accelerate and ease the whole sale process, from start to finish. Read our guide to selling and follow our advice to simplify and facilitate the sale of your home.
We make it easy to sell your property
The price is what people pay, but value is what they expect
It is vital to know the true value of your property. Remember homes in Mallorca are only worth what buyers are prepared to pay. Knowing how much your property is really "worth" means knowing the current market.
You can investigate this by doing some homework and research about any similar properties that have recently sold. Comparing your desired price to a similar property that is available on the market is only effective if you know how long it has been available for sale, as without this information you have no way of knowing if the property is overpriced for the market. An overpriced home does nobody any favours. It is far better to wait until you actually wish to sell your property in Mallorca than to put it on the market at an over inflated value and wait months sometimes years (!) to sell your home.
How do I ensure my property is valued & priced correctly?
It is possible to use one of a multitude of professional valuation companies, however they can be costly. Obtaining valuations from professional & reliable estate agents is also an effective alternative.
Professional real estate agents in Mallorca should always know their market inside out and be able to judge the true value of your home without any issue; however, be aware, sometimes, in our experience, some agencies may tell you what they believe you wish to hear, instead of factual information in order to gain the listing of your property.
It is vital that you select an agency that you trust. You should always ask them to explain how they arrived at the valuation they are producing. See our page property valuations in Mallorca for more information about this.
Know your bottom line & expenses before you begin to market your home
This means that you should think about any fees you may need to pay – for example:-
Mortgage cancellation fees (where applicable). See your bank for details.
Real estate fees. Make sure you read your agency contract carefully. At Unique Mallorca we keep it simple but some other agencies use more complex commission contracts that have a lot of small print. Make Sure you read everything through very carefully before signing it.
Property Taxes. It is imperative to know your tax situation. Capital Gains tax can seem complex & difficult to understand – especially without the right and help and advice. You must speak with your lawyer or accountant to discuss where you stand.
Retentions. If you are not an official tax paying resident in Mallorca, you will always need to pay 3% of the selling price (as detailed in the new title deed). This is known as the "withholding" tax and is so- called because the buyer "withholds" this money from the transaction in order to hand it over to the government (as a security deposit against your Capital Gains tax). Providing that you follow the official guidelines & laws and file a Spanish tax return, you will have this money returned to you without delay. Your estate agent should be able to provide you with a guide to these figures.
Tax laws and status varies – this is why Unique Mallorca always recommends seeking the advice of a qualified lawyer or tax advisor to ensure that the information you receive is current and correct before you proceed with selling your property.
Choose your Estate Agents Carefully
List your property with a select few agents – you may feel no need to sign any exclusive agency agreements, as sometimes these can limit your options. Exclusive agency agreements are sometimes beneficial as you will certainly pay less commission upon sale of the property. However, ensure that you set a time limit on the contract and have a get out clause built in to the paperwork.
If you decide to opt for more than one estate agency, it is also not advisable to give it to every agent in Mallorca! An excessively publicised property makes your home overexposed on the market & de-sensitises buyers to its charms & appeal. Choose your agents carefully based upon, first and foremost; trust, presentation and marketing, security of your property, quality of potential purchasers and marketing techniques.
Asking questions if vital
You should ask your preferred estate agents questions about these before signing any contracts. Agents that network are always a good option as they will expose your home to many partners, collaborating parties, yet your chosen agent will still have the main responsibility of the marketing presentation, viewings and client care.
Make sure your home is well staged for photos
Photos are the best selling tool of any real estate agent so please – bear this in mind when they are being taken and follow the instructions below to maximise the promotion of your property and to stand out from your competition.
Make sure that the house or flat is as tidy as possible. You should attempt to de-clutter and ensure that walkways are clear, objects should be put away behind cupboards and inside drawers to maximise the space. Clear surfaces and tidy rooms present much better on photographs, as do fully made up beds and clean floors.
If you are doing repairs to the house, try to complete them before the photo shoot, despite what people say, cosmetics make a huge difference to most. Try to make the house as "canvas" like as possible, this way potential purchasers can imagine themselves and their own belongings inside your home. White walls, minimal furnishings and neutral colours are always a winner. Soft coloured towels and rugs, cushions and curtains make a vast difference. Extra touches like a vase of flowers, an ice bucket
Make sure that the pictures are taken at the best time of day for the sunshine. You should expect to make a photo shoot appointment at the best time to showcase your home. It is advisable to wait for sunny days and times when the sun falls onto the pool or main terrace / garden areas. People looking to buy a property in Mallorca are usually searching for sunshine and can be vastly affected by seeing it fall or not fall onto your home. Natural sunlight and blue skies also lend a certain colour and hue to the photo that no amount of "photoshop" can truly replicate.
Ensure that the exterior of your home is as clean and tidy as the interior. This means cutting the lawn, sweeping up debris & leaves, cleaning the pool and washing down outdoor furniture.
Minor repairs – try to ensure that the house is in optimal condition. Any issues that your property displays will provide any potential purchaser with ammunition for negotiations. Please bear that in mind at the early stages of marketing your property. Whilst most people do like to put their own "stamp" on their new home, most will use items like repairs and reforms as negotiation tools to push down their offer price at the next stage of the process.
Here at Unique Mallorca, we are now offering video presentations of all our new property listings, however in return for the time we invest in production of these (a value of over 500 euros per production), we have terms that require a placement of one of our stylish for sale boards on your home.
Ensure that estate agency listings have correct information
You should have your title deed on hand at the listing to prove that you do have the right to sell the property & to enable your agent to take true values of specifications like m2 etc. Misinformation can be a big obstruction to a sale going through at final stages of the process and the result of it unravelling drastically along the way.
You never get a second chance to make a first impression
Make sure you follow the instructions below if you want to make the most of viewings & promotion of your home.
The first minute is crucial. Correctly presenting your property is vital. Most people claim to have the foresight to see past any small negative details but the reality is quite different! Stand out from the crowd by:-
Keeping your home clean & presentable – No dirty washing up in the sink, filthy surfaces or unnecessary clutter lying around. Clutter always makes your house or apartment seem much smaller than it really is. Having a tidy home makes a great deal of difference.
Creating a Pleasant Atmosphere For example: light the fire or use candles, turn on the a/c or heat if needed.
Think about noise – If you live near a busy road or have noise from a school nearby – use ambient noise to counter balance it. Most people do not live in total silence, there is always background noise of some kind, televisions, music, chatting – we can recreate this for potential purchasers by leaving soft music playing and installing water features in garden / balcony areas.
Making the rooms light and open. Open shutters & draw back any curtains or blinds that hide pleasant views.
Think of how your home smells! Bad smells will make your buyers run a mile. Open windows to let the air circulate or use air fresheners if necessary. If you have any pets then try to keep them out of sight wherever possible.
Think of all the small details – make the beds, arrange the cushions & outdoor furniture. Make your home resemble a blank canvas so that your potential buyer or renter can easily imagine themselves living in your villa or apartment.
Offer your visitors a drink – try to make them comfortable, offer a beverage and a seat in one the most pleasant areas of the house. Be polite and smiley, if they have a strong dislike of you – then there is a strong possibility that they won´t warm to your home.
Do not follow them round as they view. Try not to crowd them unnecessarily, we recommend being polite and welcoming and then fading away into the background. Over talking can be equally as dangerous, it is easy to slip and make an inappropriate comment that may offend – or to say something about your home that could be misconstrued and put them off. We know our potential buyers – that is part of our job and all of our realtors are trained to show your home and communicate with our clients in the appropriate manner, we request that you please trust them to do their job and give them and your visitors space to view your property thoroughly.
For more information please visit our page about our services to sell your property in Mallorca.
Need help or have a question about our service? Contact us today and we'll get right on it. We look forward to speaking with you.
Philippa & Michael