Why Choose To Holiday Rent your Home in Mallorca?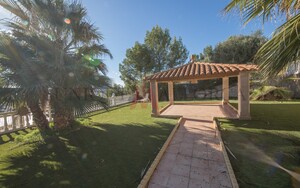 Your Holiday home is your little piece of paradise.  The place where you can escape the stresses of everyday life to lay on the beach, take in a round of golf, or simply take a nap on the terrace.
You may have thought about renting your home for a variety of reasons. Maybe you haven't used it as much as you planned and don't want it to sit empty or maybe you just need to offset the costs of owning it. Or it could be that you simply want to share your amazing holiday home with others.
When considering renting your home to holidaymakers, there are a number of things that will cross your mind, so to make this easier for you, we have put together a list of pro's and con's you should consider.
Pros of Holiday Renting your Home
All money in respect of rent is paid in advance.
This removes the possibility of guests moving in and then not paying their rent. With Holiday Renting you are guaranteed to receive payment for every stay before your guest arrives.
Prospect of greater revenue than long term renting.
Holiday rentals will command a much greater rental value than a long term let, with every year seeing even greater returns. We estimate a minimum of 5% annual return on your property value by year 2.
Opportunity to offset some of your home expenses.
Holiday renting allows you to offset your running costs, ensuring that you only pay taxes on your profit.
Damage limitation.
There is less likelihood of any damage as guests are only there for a very short period of time. Most of Unique Mallorca´s properties still look brand new after many years of back to back holiday renting.
Your Property is checked on a very regular basis.
At the end of each stay, the team ensure there is no damage with a full inspection and if there is any damage we will arrange for the cost to be taken directly out of the security deposit and the damages repaired immediately, ensuring the property is maintained in optimum condition. Also access to your home is easy to make maintenance repairs as there is always a changeover between guests.
Easy to evict difficult clientele.
As this is classed as a holiday service, a call to the police will ensure unwanted guests are removed immediately in the same way as they would be if they were a difficult guest in a Hotel and there is no need for costly legal action and no reprisal from the guests.
Tenants cannot exercise their right to remain in the property.
Again if the guest overstays their welcome a call to the police can ensure they are quickly evicted. No need for lawyers, trials and costly legal proceedings or for your property to be tied up with unwanted tenants costing you money instead of earning it for you.
Fully serviced and managed by Unique Mallorca
You would not need to be involved in day to day issues. We take care of everything from professional and costly marketing, bookings and handling of payments to organising the changeovers, cleaning, security deposits and 24hr guest care whilst in resort. All you have to do is sit back and watch your money flourish.
Still available for you to use whenever you wish.
All you need to do is block out those dates that you want to visit, and you can still use your holiday home as often as you wish.
All repairs and maintenance can be organised by Unique Mallorca
Our highly experienced property management team is reliable and professional and we have a trusted and valued client base that has used our services since we began operating over 15 years ago.  All receipts will be provided for all expenditure and works are always pre-quoted and only initiated upon approval from you.
We advertise your property both locally and internationally to ensure wider audience
Our team is multilingual and on hand 24hrs a day, 7 days a week to give a service to guests as well as to handle bookings from our own site, and an array of web portals as well as from our collaborating agencies world-wide.
We will screen/interview potential guests to make sure they are suitable
We always investigate potential guests to ensure they meet a certain elevated and expected standard of clientele.
Your Touristic license
This must be obtained for the Villa and belongs to the Villa itself and therefore in the future, should you decide to sell, it will stand out from the competition as it can be marketed as an ongoing investment opportunity. We will take care of this application process for you from start to finish (for a set fee) or we will pay this fee up front on your behalf, should you choose to market your holiday rental villa with us exclusively. We will simply refund ourselves from the first booking we take.
Cons of Holiday Renting Your Villa
You must obtain a license for a touristic license
Although Unique Mallorca will do this for you and it is comparatively inexpensive. You can begin renting from the moment the application is made.
Your Villa must be fully equipped.
Your home must have soft furnishings/bedding and towels etc. which must be of good quality and sufficient for guests and change-overs. These would not necessarily need to be supplied for a long term rental. The better you equip your home, the more money you can charge. Adding extras like games and big screen TV´s and satellite systems is also important to generate higher revenue and repeat bookings; however on the plus side, it does mean that the villa is very well equipped for your own use.
The Villa needs to be serviced properly.
This means regular cleaning and linen changes carried out every week and at the end of each stay.
There may be some weeks where the Villa is empty.
This is normally in low season, although if this occurs we can advertise offers/discounted rates in order to encourage more bookings. By your second year, these will be much less as your home becomes known and reviewed on the market. It does also mean that the property is available for your own use during this time and it is having rest periods for maintenance or reform work.
There may be some tax to pay on any earnings
The taxes are to be processed quarterly and are taken on the profit you make from the Villa rental (in the same way which you would if you had a long term tenant).You should seek some advice from your accountant about how this will work, however you can normally set off all your costs for cleaning, maintenance, mortgage and insurances and any other household related expenses and where there is a loss, which could occur where you had some major work undertaken, you can normally offset this against a future years income.
The utility bills are still yours to pay
Unlike a long term rental, where the tenant pays their own bills, you will still need to pay the utilities such as electric and gas, however this is taken into account within the booking fee and can be used to offset profit for tax declarations.
We do hope that this list, which is by no means exhaustive, demonstrates that there are numerous benefits to short term renting and that this poses much less risk than a longer term rental.
We hope that this will give you peace of mind and assist you in your decision making process.
Please remember that we offer a professional service here at Unique Mallorca and would be happy for you to give us a call if you need some further information or advice about this process.